Professional Cleaning Services
in Turlock CA and Surrounding Areas
The Cleaning Services We Offer
While carpet cleaning near you is one of the main services we offer, it is not the only service we offer.
We are pleased to offer our customers cleaning services that include:
The Cleaning Services We Offer
While carpet cleaning near you is one of the main services we offer, it is not the only service we offer.
We are pleased to offer our customers cleaning services that include:
Why Choose Mean Green Carpet Cleaners?
Protect & Respect
What we use to protect you and your home:
Corner Guards
Door Padding to Prevent Damage From Hoses
Lawn Yard Sticks to Elevate Hoses
Protective Matting on Hard Surfaces
All Techs Wear Shoe Covers
Green Cleaning Products - Safe For Kids & Pets
Dry Time Varies from 2-6 Hours Depending on Season
Professionalism & Expertise
How we show our commitment:
20+ Years Experience
IICRC Certification
We Communicate Before & After the Job
Keep Our Equipment Clean
Use HouseCall Pro to Keep Records - We Remember the Details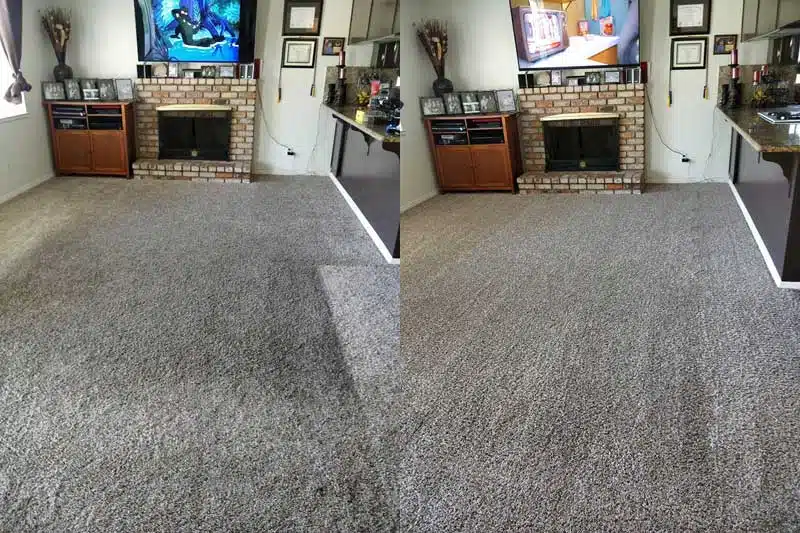 Carpet is one of the most common flooring materials in the United States. Over 50 percent of households have carpet as their primary flooring, and nearly 80 percent of households have either carpeting or at least one area rug. Vacuuming is a great way to remove dust and residue from carpets and rugs, but deep cleaning is routinely needed to ensure that the carpets are thoroughly cleaned and look their best. Carpet cleaning services are designed to deep clean your carpets and area rugs.
Carpet Cleaning in Turlock CA
Your carpets are exposed to many elements. They are exposed to dirt and debris from the bottom of shoes, oils from the bottom of feet, dust, dirt, dander and allergens floating around in your home, and food particles as you eat above your carpets. While vacuuming can remove some of these elements, vacuuming cannot remove dirt and residue trapped in the padding and locked into the fibers of your carpet. Here at Mean Green Carpet Cleaners, we offer deep carpet cleaning to help extend the lifespan of your carpets, revive dirty or worn carpets, and keep your carpets clean and fresh.
Professional Carpet Cleaning Service in Modesto CA and Surrounding Areas
While there are tools available to purchase or rent that can help you clean your carpets yourself, home carpet cleaners are not the best way to get your carpets clean. Our team uses a multi-step process and customized cleaning methods to ensure your carpets get as clean as possible. We use a truck-mounted system for our carpet steam cleaner that utilizes hot water extraction to provide the deepest method of cleaning for your carpets. This is a level of clean that home carpet cleaning machines simply cannot achieve.
Why Do Business With Us?
When you are looking for carpet cleaners, we hope you will hire us. Our company is a locally-owned business with over 20 years of experience. We are proud to serve the local community in Stanislaus County and provide residential and commercial customers with quality services.
254 reviews on
We had a great experience! They are ready to work at the time they quote which means they arrive early! I swear that never happens anymore. Great experience and great price! Thank you!
Very satisfied with the professional job performed, would recommend and consider them again.
Mean Green was superb. On time and thorough. I recommend them without reservation!
They were great. On time and in and out. Great experience.
Dion and his team were awesome! They did an amazing job on our carpets! Thank you so much for the amazing service!
After a disastrous cleaning by another company from Los Banos, Dion came to the rescue. Amazing service, prompt, personable and cost effective. Would use them again!!
Professional and friendly, Mean Green did an amazing job cleaning our upstairs carpet. Their process and equipment is better than the rest and our carpet looks new again. Best of all you can tell they take pride in their work and enjoy their business. Thank you Mean Green!
Did a great job they took their time and did it right.
Frequently Asked Questions
How Frequently Should You Have Professional Carpet Cleaning Completed?
It is recommended that residential customers have their carpets cleaned at least once a year. Commercial customers may need their carpets cleaned every three to six months, depending on the amount of foot traffic they receive. Carpets should also be cleaned if they are showing signs of wear or stains are present.
Is It Worth It To Get Your Carpets Cleaned?
If money is tight, you may be wondering if it is really worth having your carpets cleaned. Regular carpet cleaning helps to extend the life of your carpets, reducing the frequency in which you need your carpets replaced. Carpet cleaning also helps to remove odors and stains, helping to ensure your carpets not only look clean, but are actually clean.
How Long Does It Take For a Carpet to Dry After Being Cleaned?
There are many factors that can affect how long it takes for a carpet to dry after being professionally cleaned. We use a weighted extractor wand that increases suction power to offer a fast dry time. During the winter months, our dry times are between three to four hours, and in the summer months, the dry time is about one to two hours.
Are You Ready to Hire the Best Carpet Cleaner? Hire Mean Green Carpet Cleaners Today!
When you are looking to have your carpets cleaned, trust Mean Green Carpet Cleaners to complete the job. We are a responsive company that uses a top of the line cleaning method to protect your belongings and get your carpets clean. We also offer a fast dry time and green cleaning solutions. Our motto is protect and respect, and we would love the opportunity to win your business. Call us today to schedule a cleaning appointment.